Bij Canyon kunnen de Trail liefhebbers hun ding doen met de Neuron! Naast de carbon uitvoeringen liet Canyon eind vorig jaar ook de nieuwe aluminium modellen zien van deze Trail Bike. De Neuron AL is er in zoveel verschillende uitvoeringen dat er letterlijk voor ieder wat wils is. Specifiek voor de dames, ook voor de heren met de uniseks modellen en misschien wel het meest opvallend is de 'Young Hero'! Juist, voor kinderen dus.
Van 27,5 inch naar 29 inch
De Neuron AL kent verschillende wielmaten. Bij de kleinere modellen (XXS, XS en ook de Young Hero) steken ze 27,5 inch wielen, terwijl er vanaf maat S t/m XL wordt gekozen voor 29 inch wielen. Dit is bij Canyon niet vreemd en komt bij meerdere modellen terug, waaronder ook de carbon Neuron. Canyon kiest voor kleinere wielen bij de kleinere frames omdat daarmee de dynamiek van de fiets ongeacht de maat, vergelijkbaar is.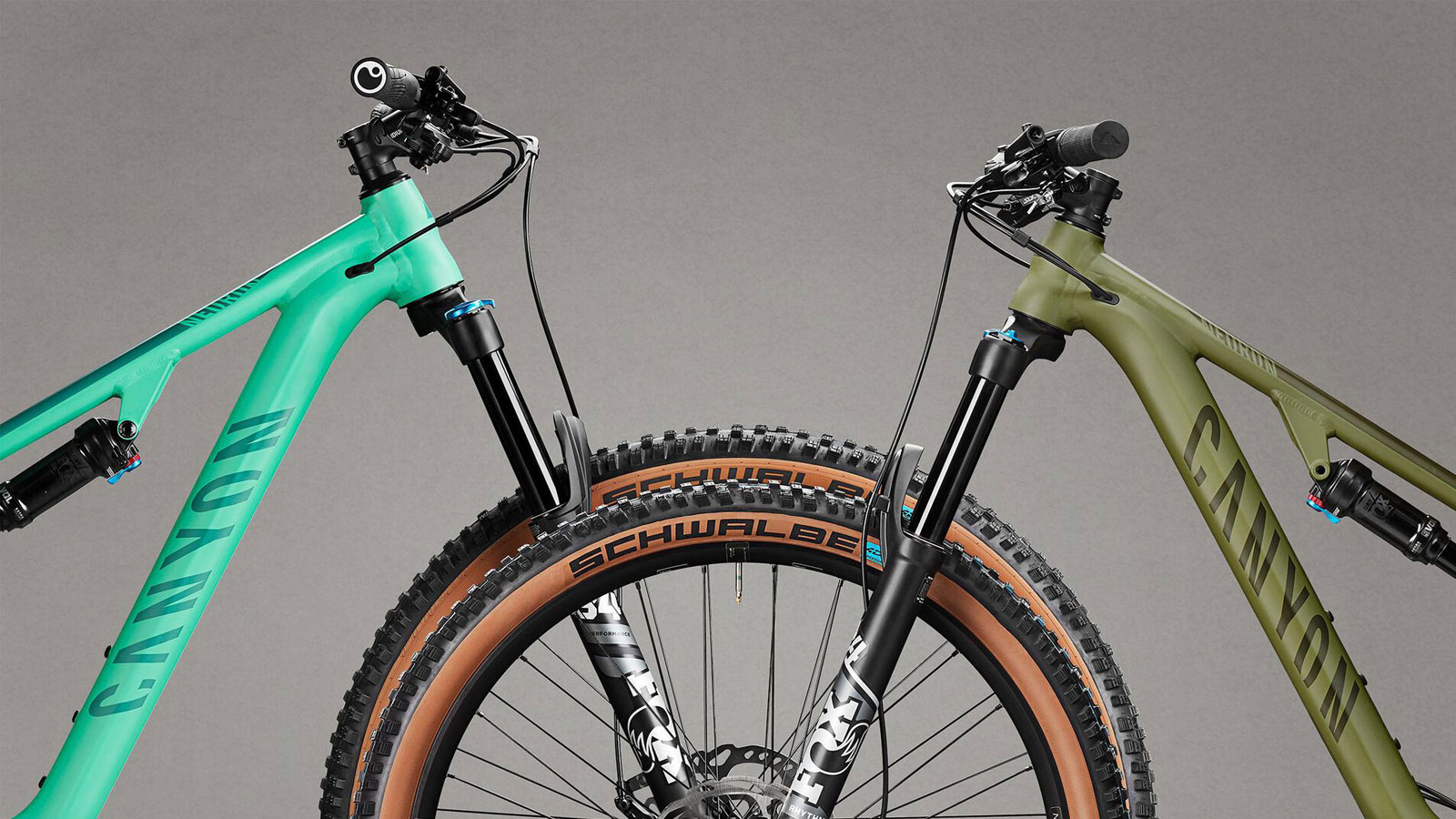 Alle Neuron AL modellen hebben een voorvork met 140 mm veerweg en een achterdemper die zorgt voor 130 mm veerweg. De Neuron AL 5, het instapmodel, heeft een RockShox Silver voorvork en een RockShox Deluxe select demper. De Neuron AL 6 en 7 hebben beiden een Fox Float DPS Performance demper. De voorvork van de Neuron AL 6 is de Fox Float 34 Rhythm en bij de Neuron AL 7 is dat de Fox Float 34 Performance. Het verschil tussen de Uniseks en WMN uitvoeringen van de Neuron AL 6 en Neuron AL 7 zit bijvoorbeeld in het zadel want de onderdelen als dempers en groepset zijn daarbij gelijk. Natuurlijk zitten er ook verschil in de kleuren, maar daarbij kan ik maar lastig kiezen. De 'into the woods' kleuren van de Neuron's zijn erg tof vind ik.
Young Hero
De Young Hero is verkrijgbaar in de maten XXS of XS en daarbij zorgen de dempers zowel voor als achter voor een 130 mm veerweg. Deze zijn van Manitou en de fiets is verder afgemonteerd met een SRAM SX 1 X 12 aandrijving en Tektro remmen. De Young Hero is de goedkoopste Neuron AL Trail Bike met een prijs van € 1599,-. De Neuron AL 5 is de instapper voor volwassenen en deze heeft een prijs van € 1899,-. De Neuron AL 6 kost € 2199,- en de Neuron AL 7 is in dit geval met € 2699,- de duurste.
Alle specificaties en kleuren van de Canyon Neuron AL kan je vinden via de website van Canyon.