Hate it or love it! Bij mij is het dat laatste, want een stalen mountainbike vind ik mooi en klassiek ogen. Strakke dunne buizen die een clean frame vind ik vaak mooier dan oversized buizen met de nieuwste features. Deze Shan 27,5″ is een all mountain hardtail aldus de makers. Je kan er volgens Privee alle kanten mee op ze noemen het de ideale do-it-all-bike zijn. Of dat ook echt zo is kan ik je niet vertellen, maar aan de looks zal het in elk geval niet liggen als je mij vraagt.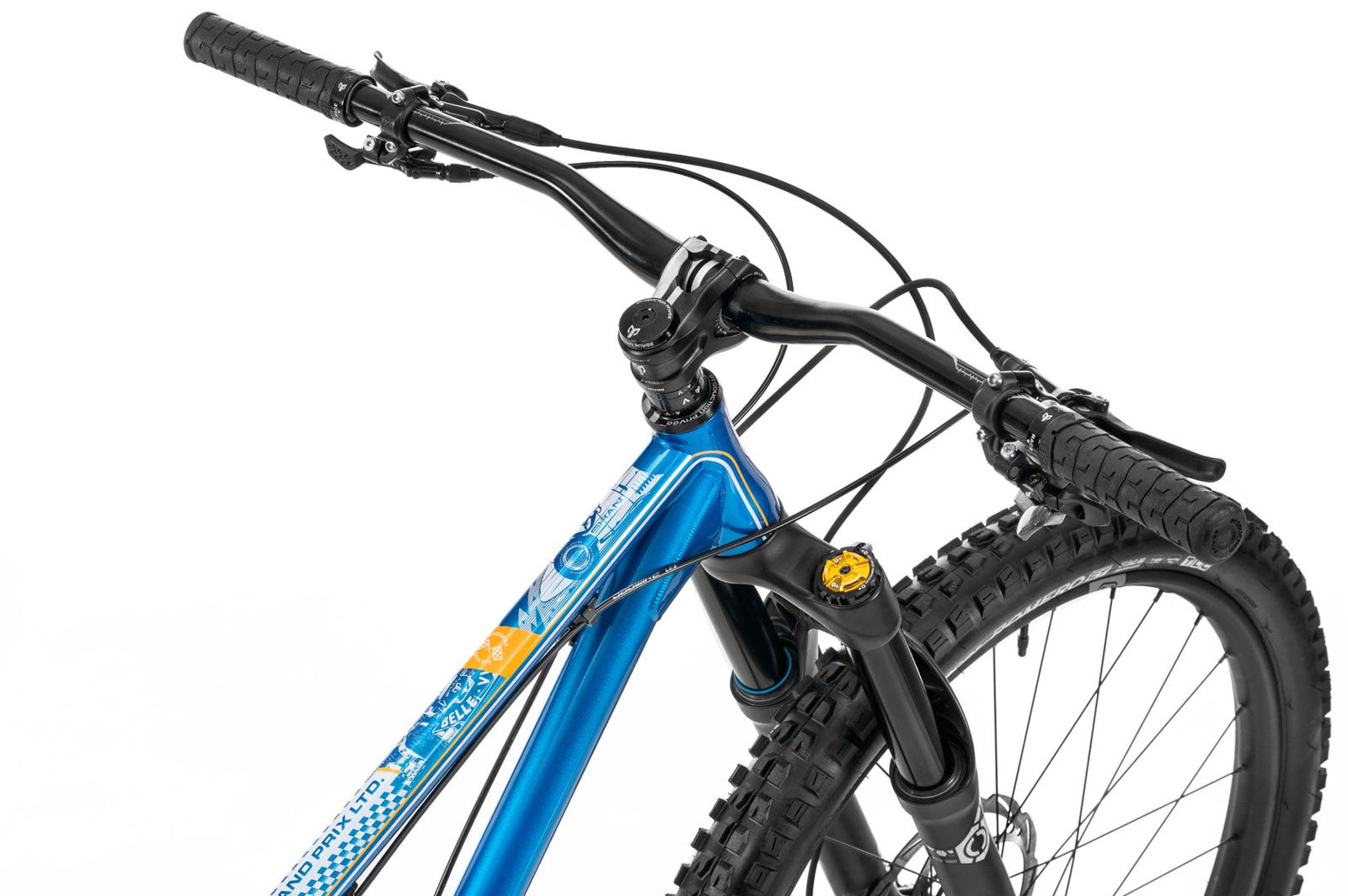 Helderblauw en flinke veerweg
Het eerste dat mij opvalt is de gave helderblauwe kleur en de gouden details van de SRAM groepset. Goed uitgekozen wat mij betreft, want het matched mooi met de details van de voorvork en de oranje details van het frame. Het frame is gemaakt van triple-butted CrMo 4130 stalen buizen. Bij de achterbrug wordt deze buis beschermd door een chain protector. Mocht je de tekst niks vinden, geen zorgen. Hij wordt namelijk geleverd met de tekst: Steel is real! En dat is wel toepasselijk.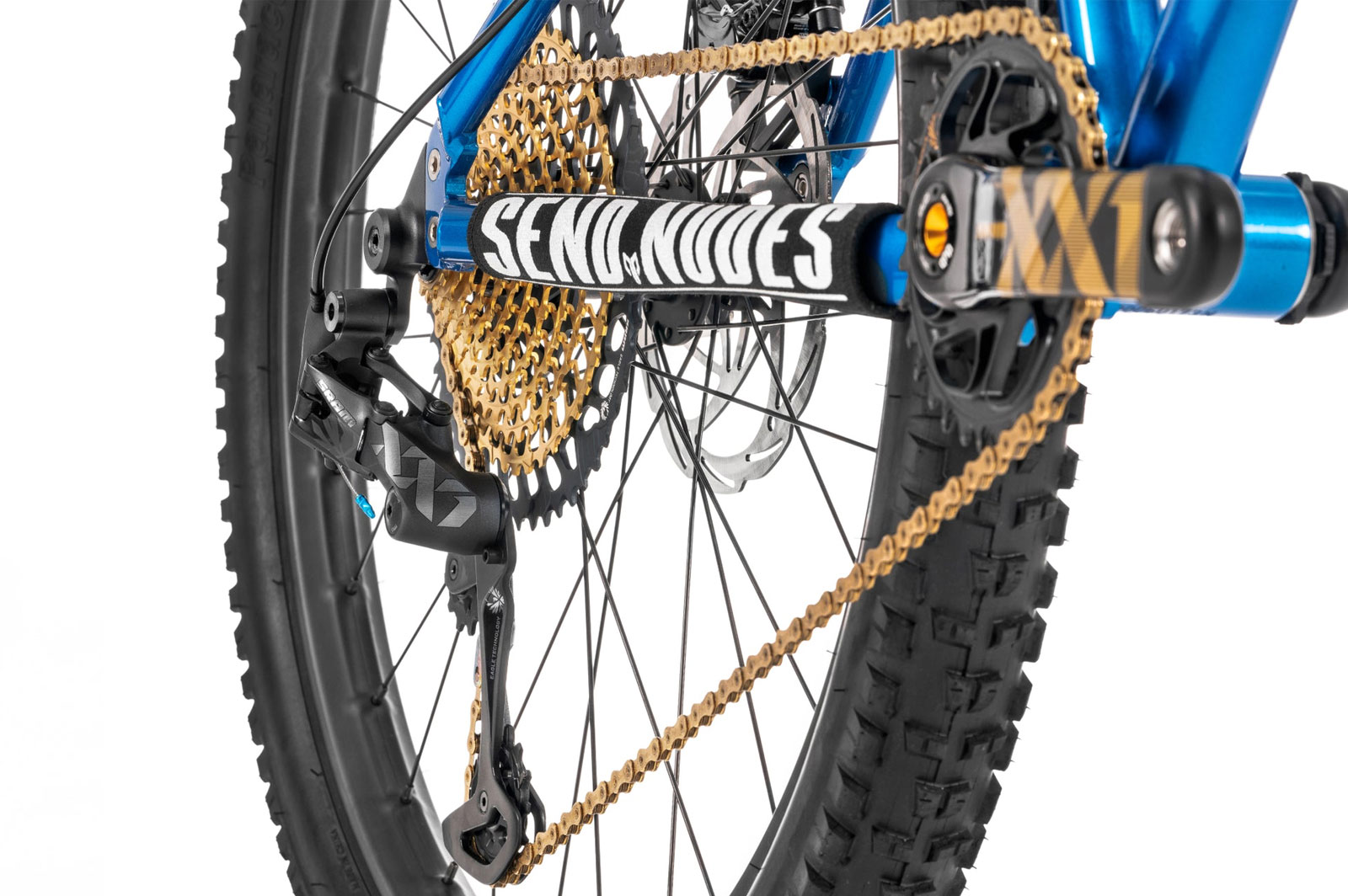 Het zal geen verrassing zijn dat deze Shan 27″ is gemaakt voor 27,5 inch wielen. Privee kiest voor de niet alledaagse Cane Creek Helm 27″ MKII air voorvork met een travel van 150 mm. Het frame is ook geschikt voor vorken met een travel van 140 mm of 160 mm. Maar om de veelzijdigheid van deze fiets te benadrukken wordt er gekozen voor de gulden middenweg met 150 mm.
De groepset met gouden details is de mechanische SRAM XX1 Eagle 12-speed met trigger-shifter aan de rechterkant. Aan de linkerkant op het stuur zit de remote voor de dropperpost; de Crankbrothers Highline 7. De travel van de dropperpost is maatspecifiek. Zo komt een maatje S met een 125 mm dropperpost, maat M en L hebben 150 mm gravel en de grootste maat (XL) heeft 170 mm travel. De Privee Shan 27″ heeft een paar carbon wielen, die ook uit de fabriek van Crankbrothers afkomstig zijn. De Crankbrothers Synthesis Enduro wielen hebben een binnenbreedte van 31,5 mm bij het voorwiel en 29,5 mm bij het achterwiel. Lekker breed voor een stevige set wielen.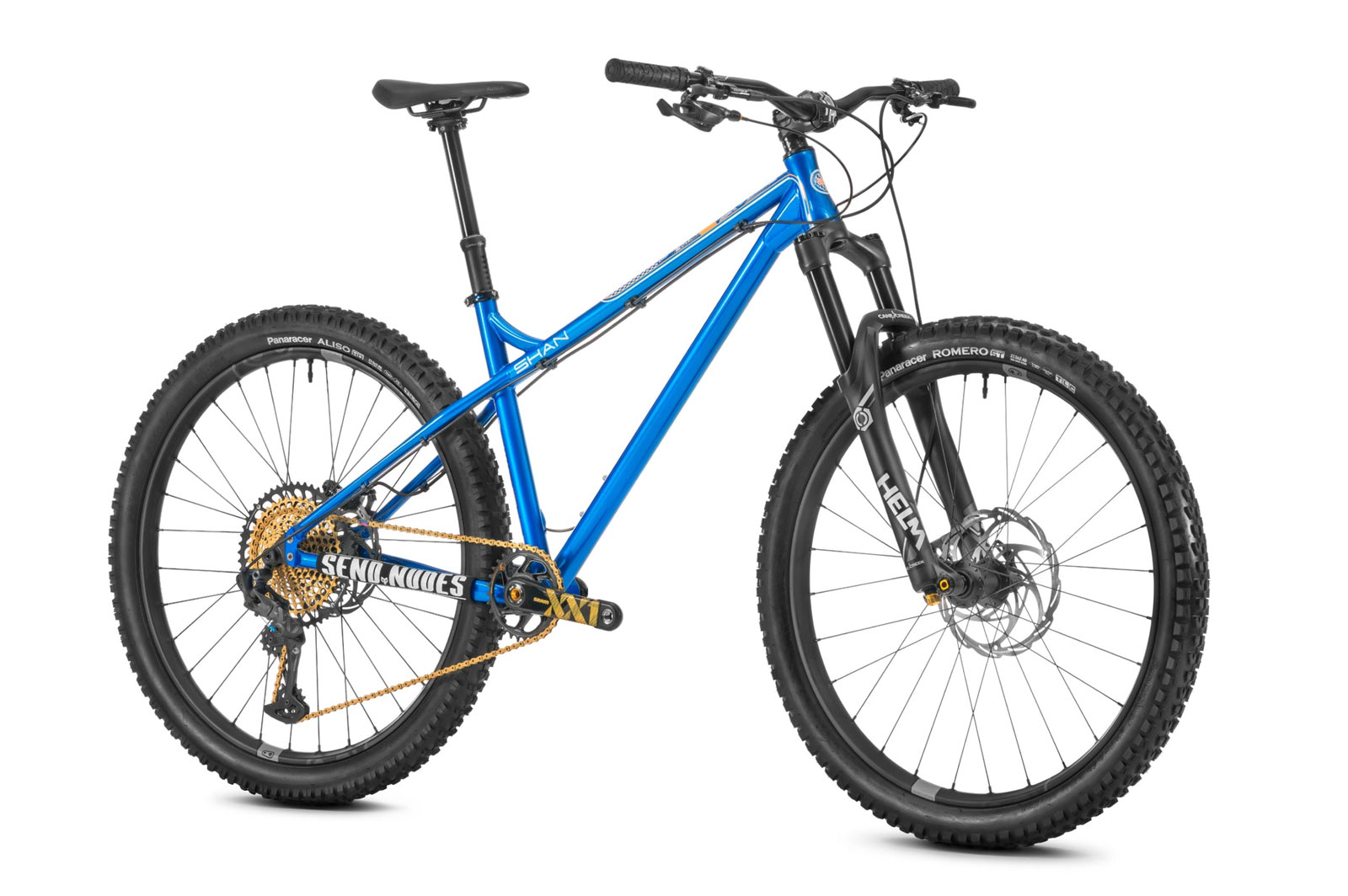 De opvallende Shan 27″ is als complete fiets verkrijgbaar, zoals hier afgebeeld. Maar je hebt ook de mogelijkheid om deze helemaal zelf op te bouwen, door het frame los aan te schaffen. In dat geval betaal je € 749,-. De complete fiets is verkrijgbaar voor € 5.535,75 en daarvoor heb je toch wel een uniek stalen ros uit Andorra.