De zes-spaakwielen van Anne Terpstra trekken onze aandacht steeds opnieuw. De beste Nederlandse dame in de wereldbeker van 2022 rijdt als enige topper op carbon wielen uit één stuk. Een opvallende verschijning in de kop van de wedstrijd. Maar wat zijn het eigenlijk voor wielen?
Bike Ahead Composites Biturbo RS
De wielen van Anne Terpstra worden gemaakt door het Duitse bedrijf Bike Ahead Composites. Het bedrijf is gespecialiseerd in carbon onderdelen zoals sturen, zadelpennen en wielen. Zo maken ze onder andere superlichte wielen met gewone spaken, maar hebben ze ook een brede range wielen met carbonspaken voor praktisch alle fietsdisciplines. Anne Terpstra rijdt met de Biturbo RS uitvoering. Die wielen zijn bedoeld voor trail, down country en cross country.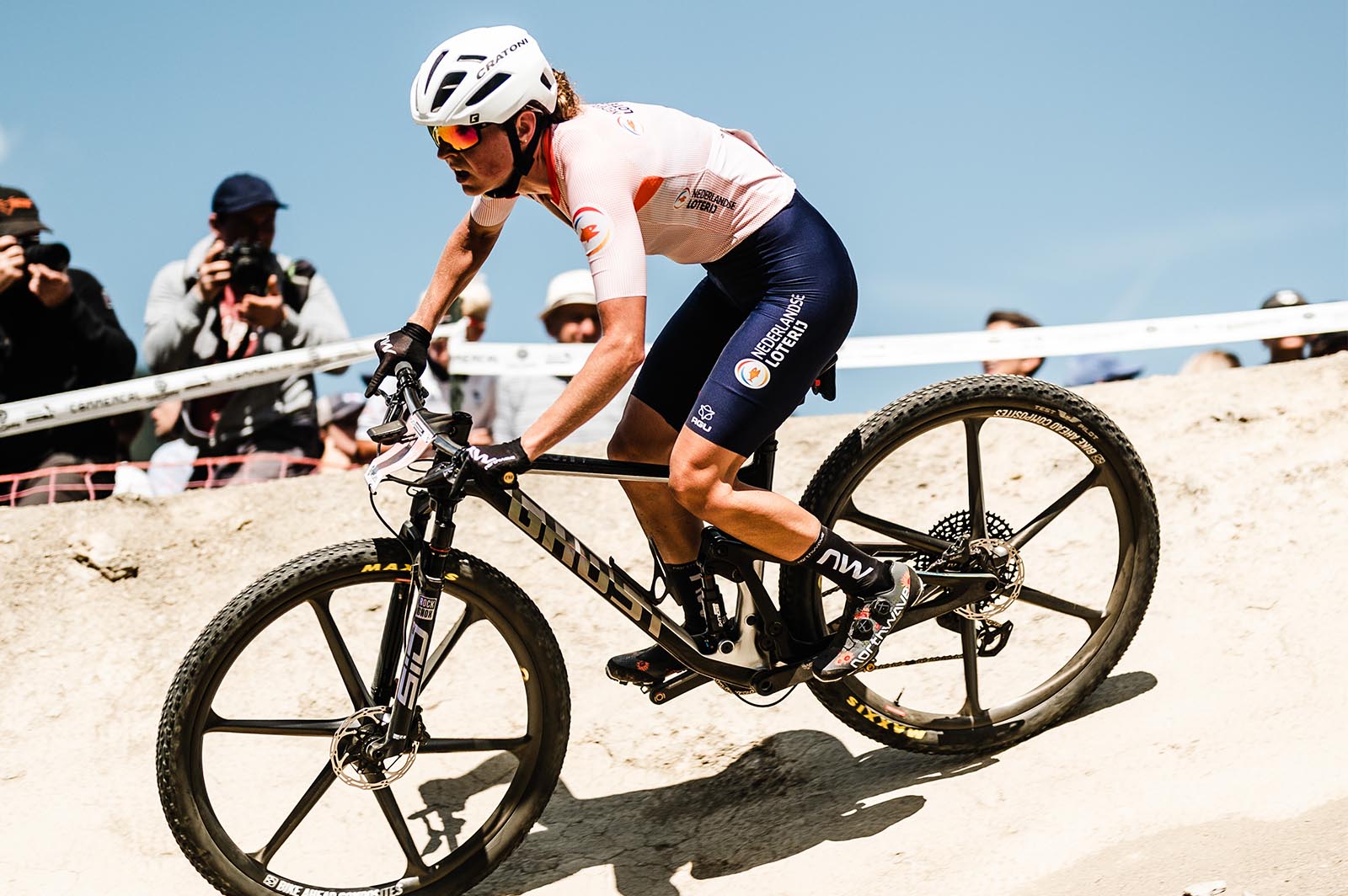 Wielen met weinig en carbon spaken zijn natuurlijk niet nieuw. De wielen van Anne Terpstra doen mij denken aan de Spinergy-wielen die je in de zero's vaak tegen kwam. Die bestonden uit een hoge velg met acht super platte en brede spaken. Spinergy bestaat nog, maar maakt tegenwoordig alleen nog wielen met 'gewone' spaken. Na die trend waren de carbon spaken weer een tijdje uit beeld. Toch kiest Bike Ahead Composites nu weer voor die techniek en hoewel carbon tegenwoordig bijna synoniem staat voor Taiwan of China, maakt het Duitse bedrijf alles lokaal in eigen huis en met de hand.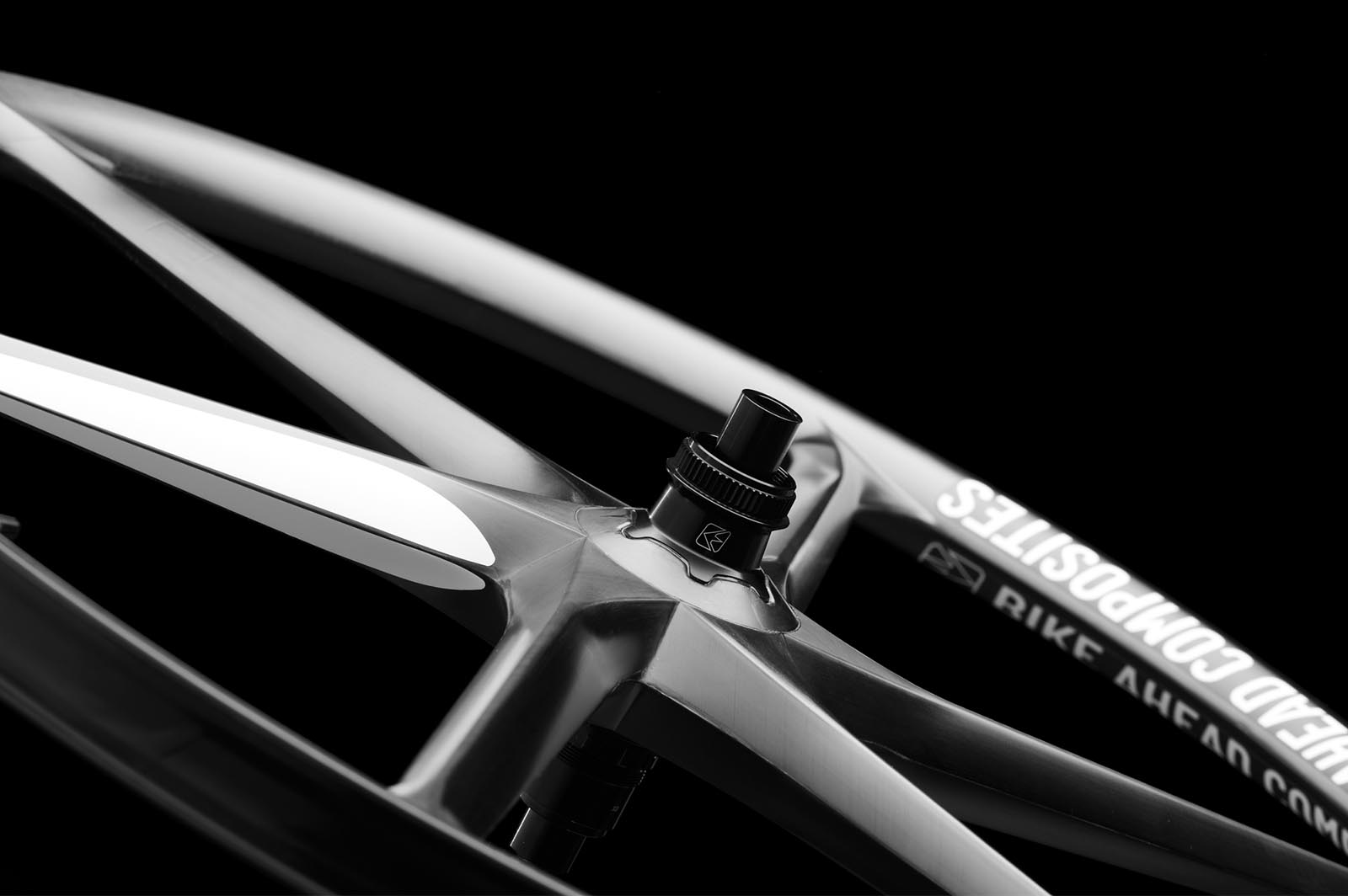 Meer over de 6-spaakwielen in detail
Waarom zou je voor weinig en carbon spaken kiezen? De fabrikant is daar niet heel duidelijk over maar ik ga uit van een keuze vanwege het gewicht. Alleen minder spaken betekent meestal ook minder stijve of stevige wielen, dus moet de spaken weer dikker worden. De Biturbo RS-wielen zijn met 1249 gram licht te noemen, maar opvallend genoeg zijn de wielen met gewone spaken uit het assortiment van Bike Ahead Composites nóg lichter. Vermoedelijk zijn de Biturbo RS-wielen echter stijver en aerodynamischer dan wielen met traditionele technieken.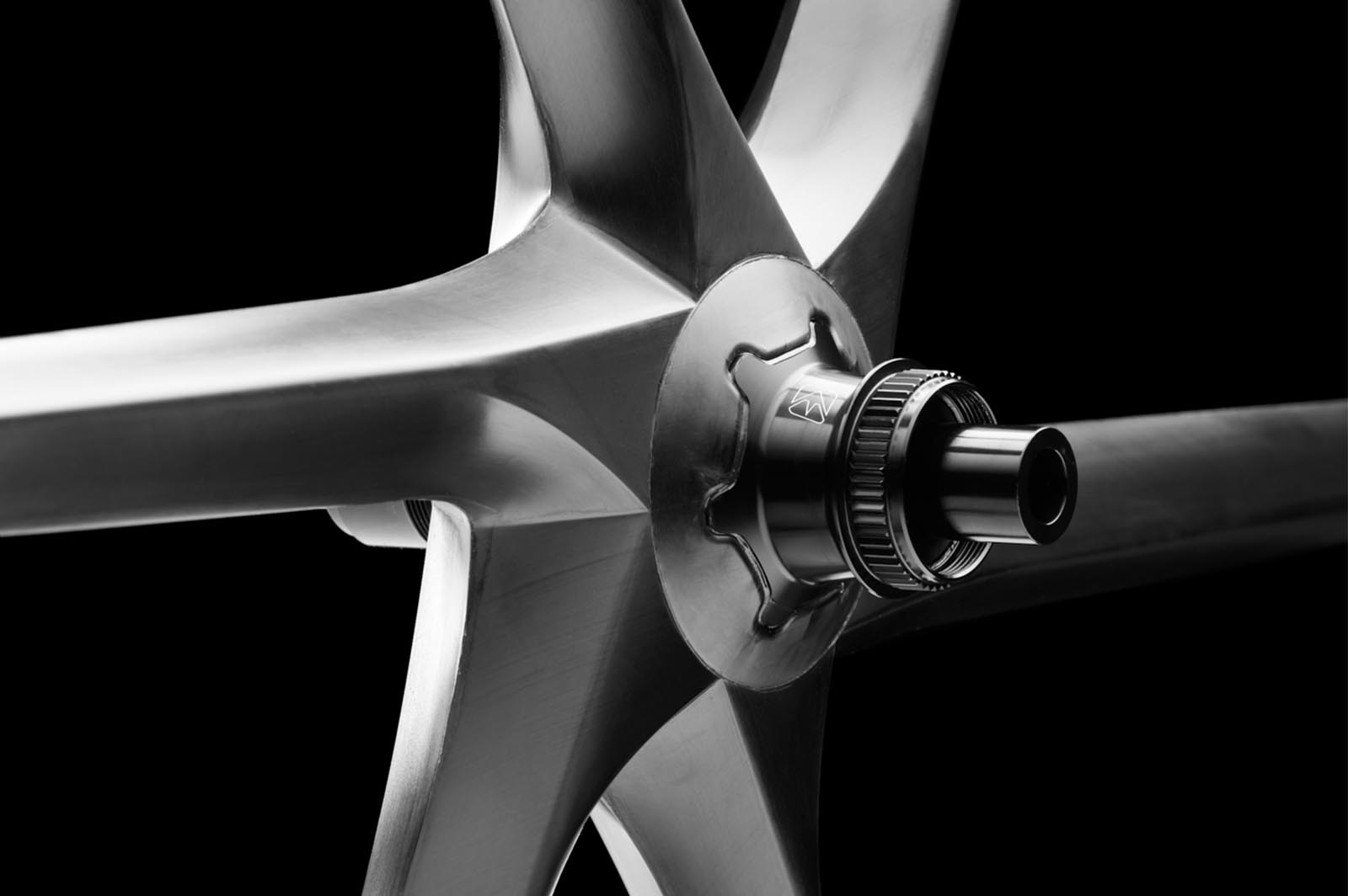 De wielen hebben zes holle spaken in de vorm van een vierkant, die ongeveer net zo breed zijn als de velg. Met een velghoogte van 25mm en breedte van 27mm zijn het echte cross country wielen, hoewel 30mm velgbreedte eigenlijk steeds meer de standaard wordt. De wielen zijn in één kleur beschikbaar: mat unidirectional carbon. De naven zijn speciaal voor deze wielen gemaakt met behulp van DT Swiss techniek voor alle soorten body's en je kunt de wielen zowel tubeless als met binnenband rijden. Opvallend is het relatief lage rijdergewicht: maximaal 95 kilo inclusief bepakking.
De wielen zijn verkrijgbaar in 27,5 en 29 inch, Centerlock en met zowel boost, Lefty Ocho als normale steekassen. De prijs is met €3399,- wel erg stevig. Meer over deze wielen bij Bike Ahead Composites.
Fotografie: Vincent Engel