Met de eerste aanblik van de nieuwe Focus Raven denk je meteen aan een hardtail cross country bike, maar na wat verdieping in de specificaties valt vooral op dat deze cross country in geometrie veel raakvlak heeft met trail bikes. Zelf noemt Focus de nieuwe Raven "onze interpretatie van cross country". Laten we er eens induiken.
Opvallende geometrie voor een hardtail cross county bike
Steeds meer cross country mountainbikes worden uitgerust met een 120 mm veerweg in de voorvork. Die trend zien we met name steeds meer bij de nieuwe fully's die de laatste tijd zijn gepresenteerd. Daarmee trekt de cross country categorie steeds meer naar de down country categorie, die daarmee eigenlijk ook een beetje uit de volksmond verdwijnt. Toch durf ik deze nieuwe Raven wel echt als trail bike te bestempelen, want naast de extra veerweg is de geometrie ook echt trail te noemen.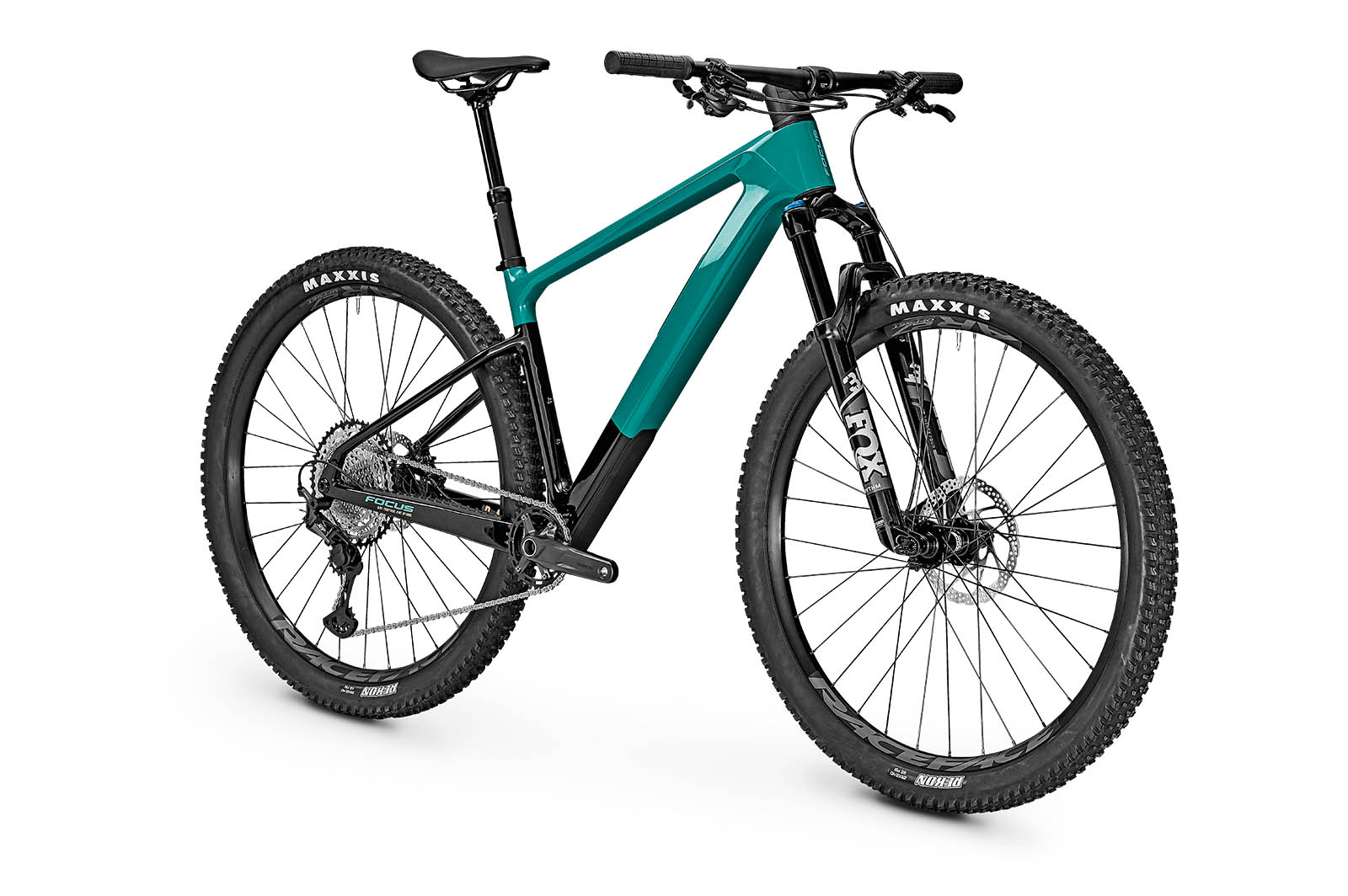 De balhoofdhoek is aanpasbaar door het omdraaien van het bovenste balhoofd. Dat is een innovatie die je veel ziet in trail bikes. De hoek is in beide standen lui, namelijk in alle maten 66,5 of 67,5 graden. De zitbuishoek is met 74 graden iets minder progressief te noemen, maar ook nog steeds redelijk lui. Focus heeft verder de bovenbuis verlengt in vergelijking met het vorige model en vervolgens de stuurpen korter gemaakt. Ook afgekeken van trail bikes; het opbergvakje in de onderbuis onder de bidonhouder. Overigens kun je twee bidons plaatsen, opvallend en vooral handig bij deze trail hardtail mountainbike.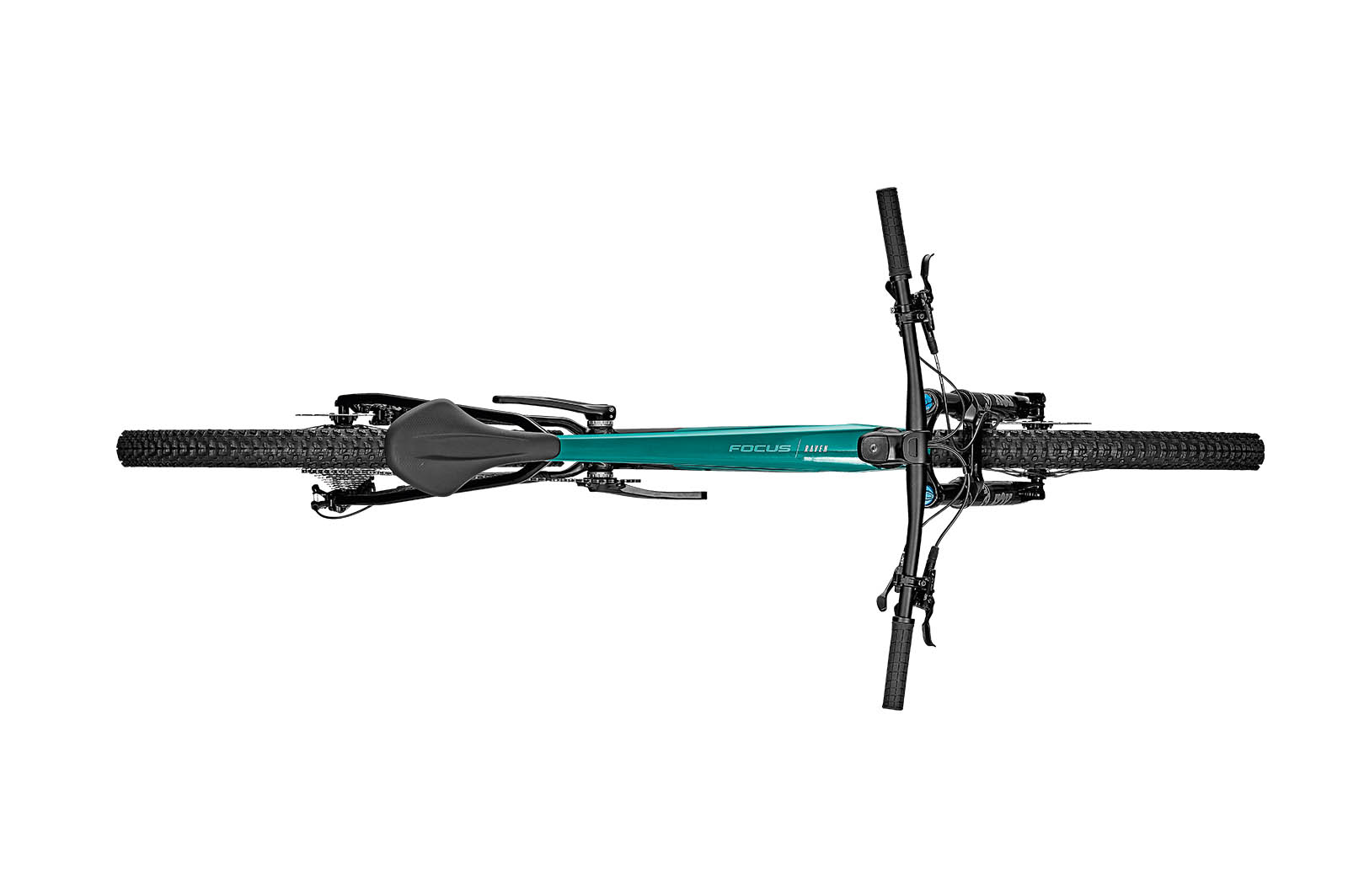 Drie modellen in vier kleuren
De Focus Raven 8.9 is met een SRAM GX Eagle groepset het topmodel van deze nieuwe serie. Daarin vind je een Rockshox SID Select en een set aluminium DT Swiss X1900 wielen met 25 mm interne breedte. Ook is dit model net als de goedkopere Raven 8.8 voorzien van een dropper post. De Raven 8.8 heeft een wielset met Raceface-velgen en Novatec-naven. Dat laatste model wordt geleverd met een Fox 34 Float Rhythm en Shimano Deore XT groepset. De laagst geprijsde Raven 8.7 heeft geen dropper en is voorzien van Sram SX Eagle en een RockShox Judy Silver. Het gewicht van de modellen is respectievelijk 11,6, 12,9 en 13,4 kilo.
De Raven 8.7 is beschikbaar vanaf € 2.199,- euro in de kleurcombinatie Heritageblue / Stoneblue. De Raven 8.8 in de kleuren Bluegreen / Carbon raw of Lightgrey / Carbon raw heeft een adviesprijs van € 2.799,- en het topmodel kost € 3.599,- en is beschikbaar in Silver / Carbon raw.
Meer info bij Focus.