Het grootste nadeel van onze favoriete hobby is toch het poetsen en schoonmaken van je mountainbike. Nu vind ik sleutelen en knutselen aan m'n fiets zeker niet vervelend, maar dan moet het wel eerst allemaal schoon zijn. En zeker met een full suspension zijn er vaak veel hoekjes, kiertjes en ruimtes waar vuil en vocht tussen kruipt. Dat het daar tussen kruipt, is niet te voorkomen maar het schoonmaken is essentieel maar ook lastig. Dat zal bij Muc-Off ook één van de redenen zijn geweest om een stevige beschermende spray te ontwikkelen die al een tijdje in de collectie zit: De HCB-1.
Een jaar bescherming bij extreme omstandigheden
De HCB-1 protectiespray van Muc-Off is niet specifiek voor fietsen, want het wordt ook gebruikt voor gemotoriseerde voertuigen. HCB staat voor Harsh Condition Barrier en daarmee doelen ze op de dunne beschermende filmlaag die er ontstaat als je dit hebt aangebracht. Volgens Muc-Off zal deze filmlaag tot zo'n 12 maanden bescherming moeten bieden voor je fiets. Dit is wel natuurlijk wel een beetje afhankelijk van het gebruik, want als je fiets maar 2 keer per jaar buiten komt heeft de beschermde laag weinig te verduren.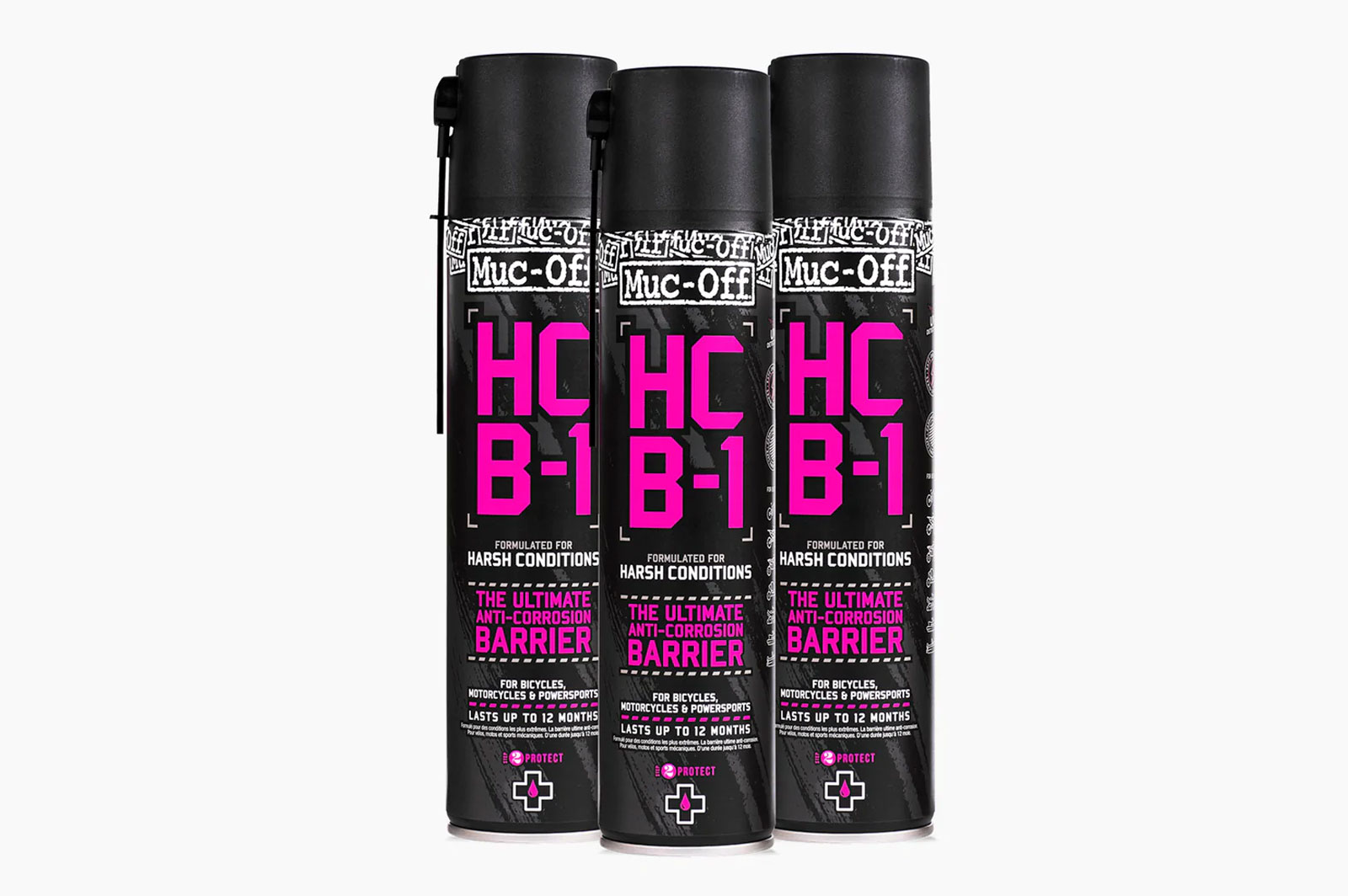 We hebben de HCB-1 (nog) niet getest, maar zoals Muc-Off het omschrijft lijkt het mij een ideale uitkomst voor m'n fietsen. Volgens Muc-Off beschermt het tegen roest, maar lost het ook kleine roestplekjes op. De filmlaag moet een zelfhelende functie hebben waardoor het een jaar lang bescherming kan bieden. Ook is er een kleurstof in aangebracht, zodat je met een uv-lampje kan checken of de beschermende laag overal goed is aangebracht of nog aanwezig is. Daarnaast biedt ook bescherming tegen uv straling van de zon en maakt het je fiets beter bestand tegen zout en daarmee is het ook ideaal voor in de wintermaanden. Als het echt doet wat het beloofd, is de prijs van € 21,49 voor een bus niet verkeerd.
via Muc-Off