Bij een upgrade van je mountainbike denk ik in eerste instantie al snel aan een andere voorvork, of een set carbon wielen. Een upgrade van de crank gebeurt, zeker bij marathon en XC rijders, vaak vanwege een powermeter. Maar je kan je crank ook vervangen voor een Boone TwisTi crank van titanium. De eerste keer dat ik deze zag was ik direct enthousiast omdat het er heel gaaf uitziet. Van het prijskaartje werd ik dan weer iets minder enthousiast.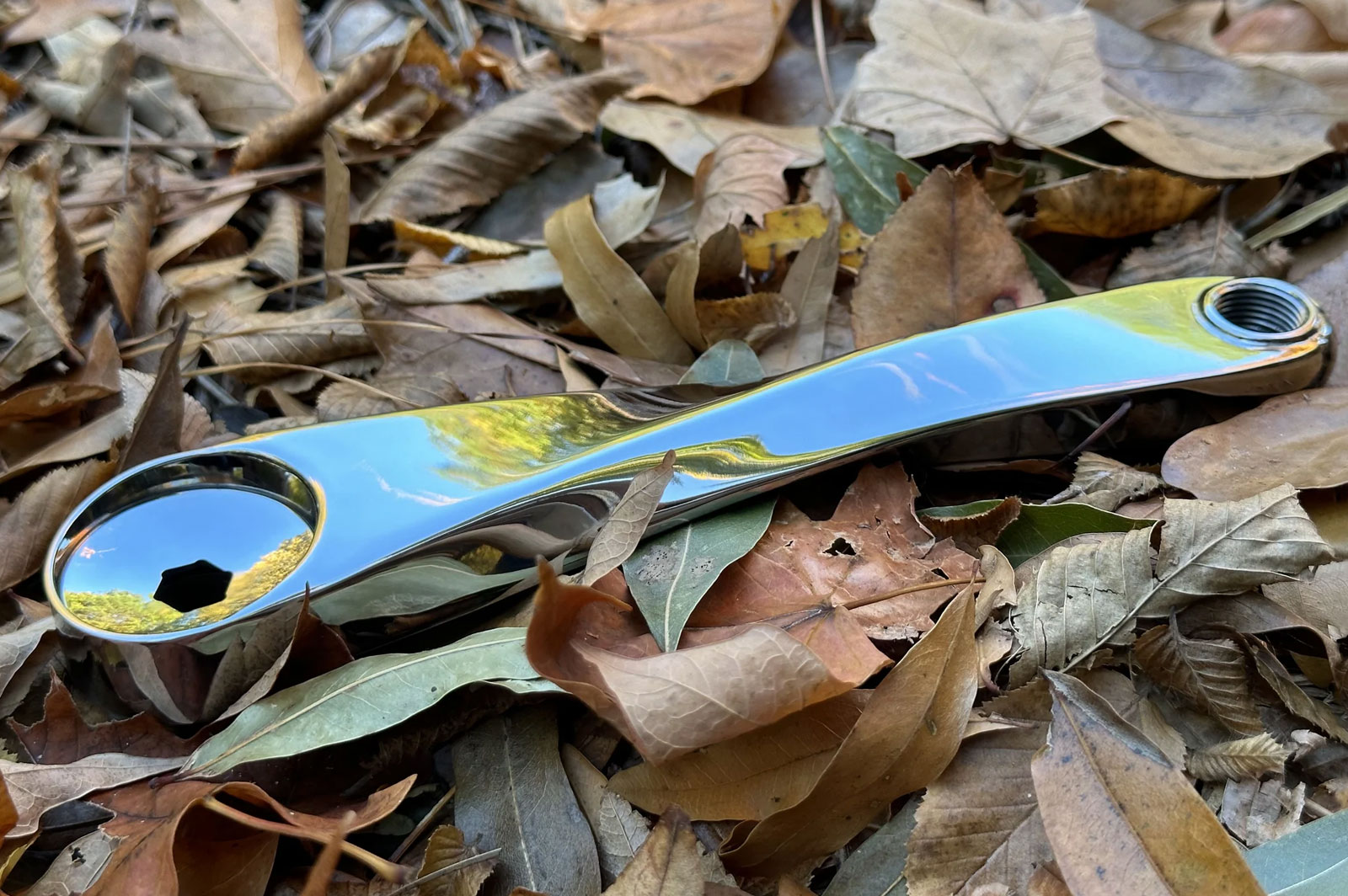 Titanium vakwerk
De Boone TwisTi is dus een titanium crankset met gedraaide cranks. Als je naar de foto's kijkt zie je direct wat daarmee bedoeld wordt. De cranks worden gemaakt uit hoogwaardig titanium dat ook in de ruimtevaart wordt gebruikt. Dit staat bekend om zijn stevigheid in combinatie met een licht gewicht. Een complete set titanium cranks, met spider, spacers en titanium bevestigingsmateriaal weegt naar eigen zeggen 422 gram. Hierbij maken ze overigens wel gebruik van een aluminium spindel. Dit gewicht is gemeten met een complete set met cranklengte van 170 mm. Daarnaast zijn ze ook verkrijgbaar in 165 mm of 175 mm. De spindels zijn ook verkrijgbaar in verschillende afmetingen, zodat deze cranks op verschillende type fietsen kan worden gemonteerd.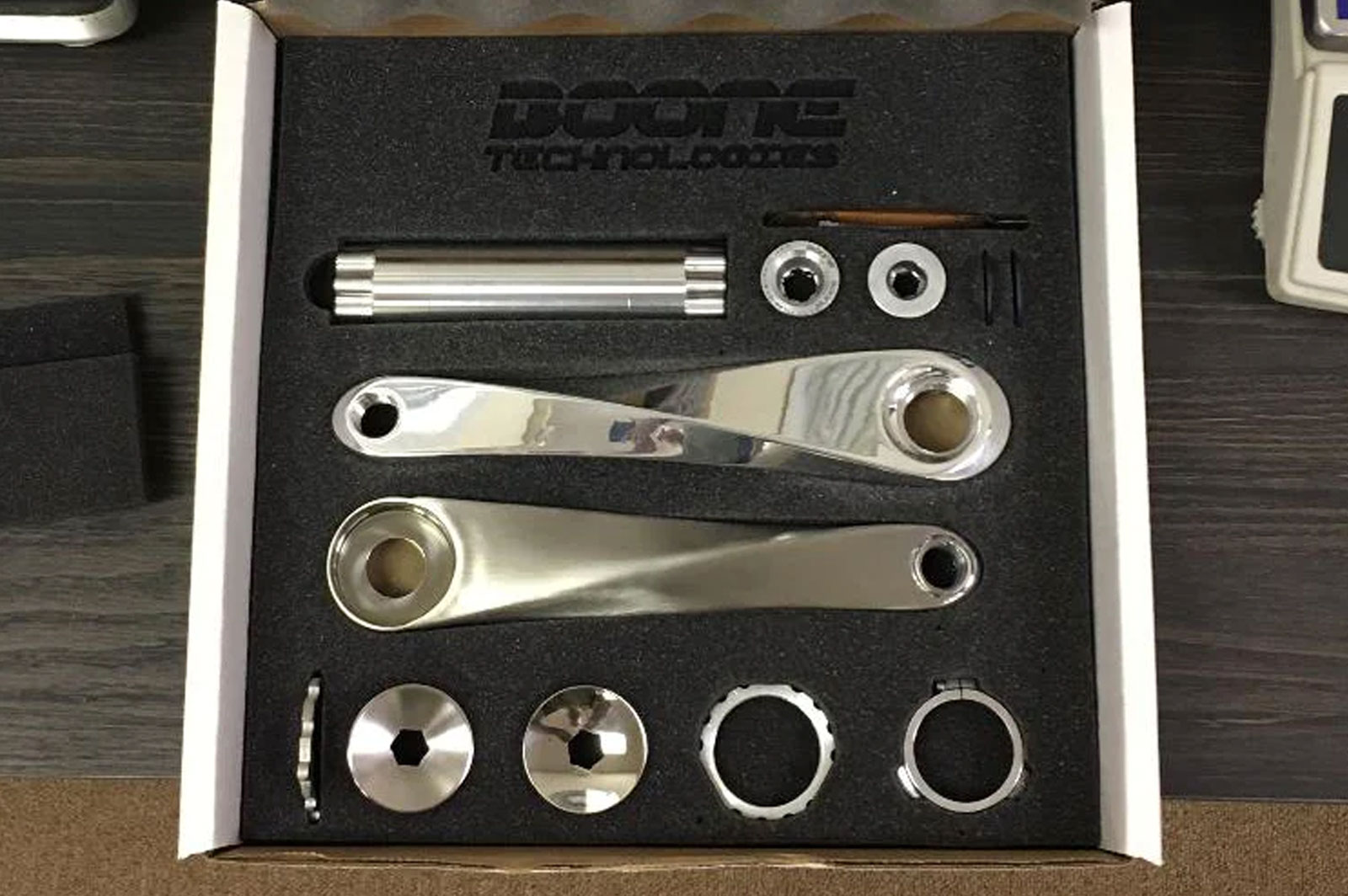 Als je een set TwisTi's besteld, gaat het dus om bovengenoemde set zonder kettingbladen. Je kan er voor kiezen om te combineren met hun eigen titanium kettingbladen. Je kan ook je eigen kettingblad overzetten eventueel in combinatie met de specifieke spiders die ze ook in het assortiment hebben. Ze hebben spiders en kettingbladen voor een 1X en 2X aandrijving en verschillende steeklengtes. De kans dat jouw ideale combinatie niet mogelijk is, is vrij klein naar mijn idee.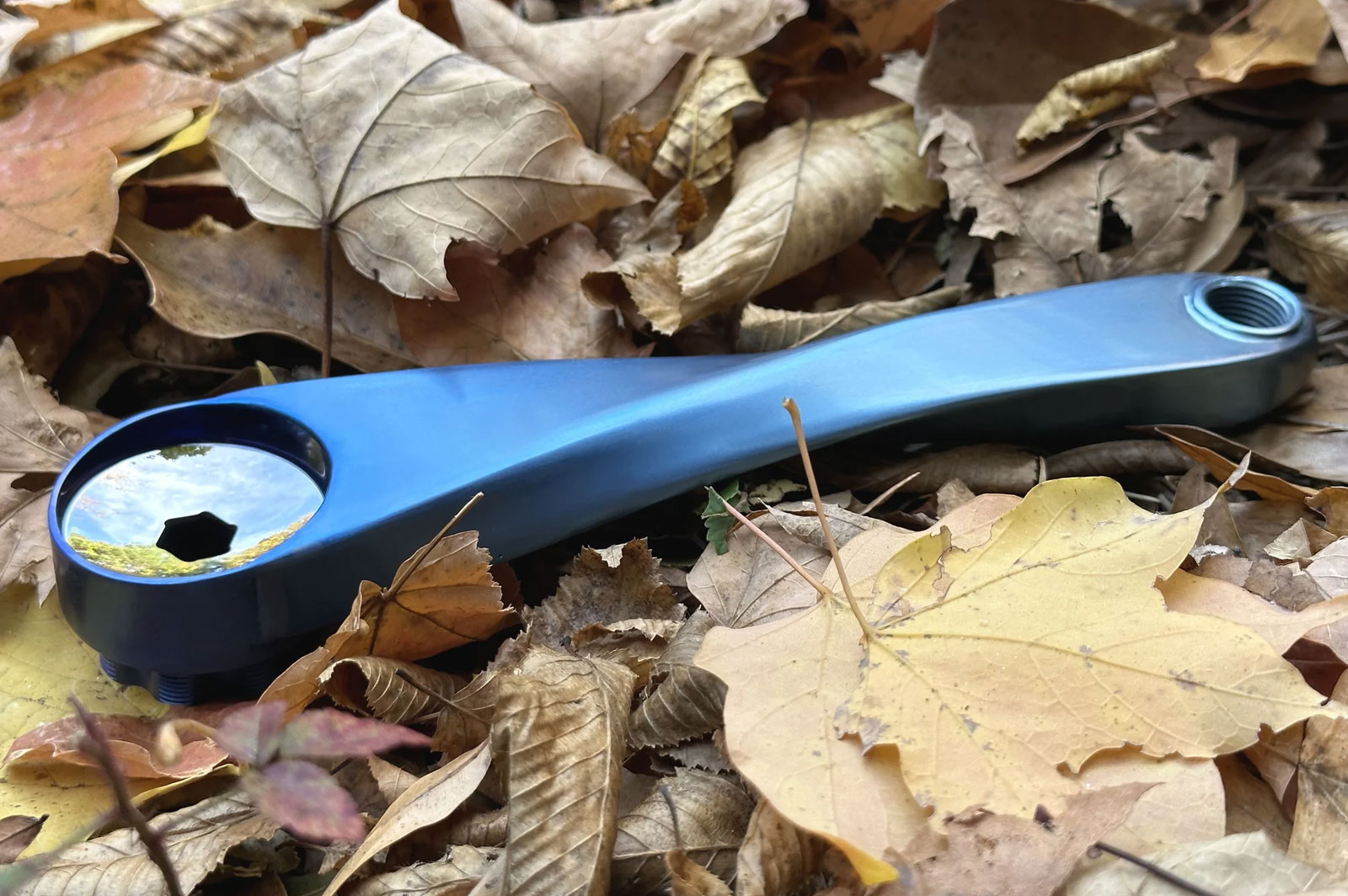 Verschillende afwerkingen
De gedraaide titanium cranks zijn er in verschillende afwerkingen. De 'standaard' TwisTi crank is verkrijgbaar in een satin, brushed of polished. Hier hangt een prijskaartje aan van $ 1095,-. Daarbij maakt de lengte van de crankarm gelukkig niet uit.
Maar je kan het nog gekker maken, door te kiezen voor het donkerblauw geanodiseerd, goud/paarse fade of een splatter fade. Daarbij loopt de prijs op tot bijna $ 1200,-. Een aantal van deze opties zie je hier al op de foto's maar op de website van Boone Technologies kan je alle afwerkingen zien. Ook vind je daar een uitgebreide FAQ over hoe je de TwisTi's moet monteren en welke spacers en marges er nodig zijn ten opzichte van je frame.